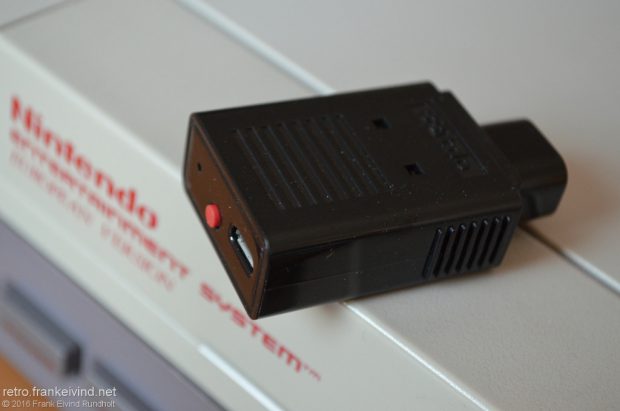 Back in the day, Nintendo released the NES Satellite for wireless infrared gameplay on the grey 8 bit box. Technology have moved on since 1989 and wireless gaming on the NES is back with the Retro Receiver from 8bitdo.
8bitdo, famous for their retro bluetooth controllers, and Analogue (who have remade the NES console) have partnered up to make the Retro Receiver which is sold exclusive on Play-Asia [affiliate-link] for US$19.99.
Before you start using the Retro Receiver, you should download the software from 8bitdo website and update the firmware of the device if nessecary. I didn't do that at first, so I had some problems. The update fixed that.
The Retro Receiver is only 5.5 cm long. Some may say it's big enough. Just plug it into the controller port and you're ready to go.
Synching is easy. Just press the red button on Retro Receiver and the synch-button one of the supported bluetooth controllers and they pair up. I tested both a Wii Mote and the Wii U Pro controller. They both worked fine. Retro Receiver also support the 8bitdo controllers and PS3 and PS4 controllers.
Synching a PS3 controller is a bit more work, since you have to connect both to a PC and use the downloaded softare for synching.
Sitting back on your couch, with no wiress and playing the NES is a breese. There is no lags as far as I can tell.
The great thing is that the Retro Receiver has a micro-usb port, so you can also connect it to a PC or Mac. I used the Wii U Pro controller to test remote play from Xbox One on my Windows 10 PC, and that worked like a charm.
The Retro Receiver will not only work on an original NES, but also on the Retron 5 and Retro Freak consoles.
So if you fancy wireless gaming, I can highly recommand the Retro Receiver from 8bitdo. It does what it supposed to do, and it does it very well.