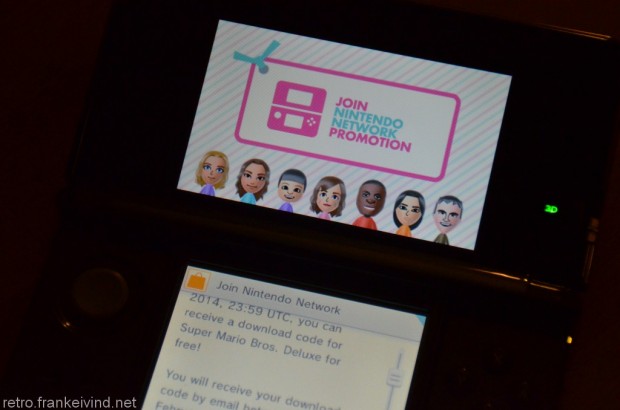 You still have one week to get Super Mario Bros. Deluxe for free.
Remember the Nintendo 3DS firmware update in December last year? If you register a Nintendo Network ID, or link a your Wii U created account, on the Nintendo 3DS before the end of January 31st 2014, you will get Super Mario Bros. Deluxe for free. The download code for the game will be e-mailed you in the second half of February.
From the pressrelease (Nintendo.co.uk):
To celebrate these exciting new entertainment opportunities for handheld owners, we're running the Join Nintendo Network Promotion – which gives you the opportunity to get your hands on a download code for Super Mario Bros. Deluxe on Virtual Console for Nintendo 3DS, for free! Super Mario Bros. Deluxe is the Game Boy Color version of the classic Super Mario Bros. game, which was originally released for NES and offers the original mode, plus an exciting Challenge Mode!
To be eligible to receive this free download code, perform the latest Nintendo 3DS system update and between December 10th 2013 and 23:59 UTC  on January 31st 2014 register a new Nintendo Network ID on a Nintendo 3DS family system, or link the Nintendo Network ID you currently use on Wii U to your handheld. Don't worry if you have created an ID or linked your current Wii U ID since the update on December 10th – you will already count for the promotion!
Download codes will be sent between February 13th and February 28th 2014, to the email registered to your Nintendo Network ID – so please make sure that your email address is correct and confirmed when you take part!