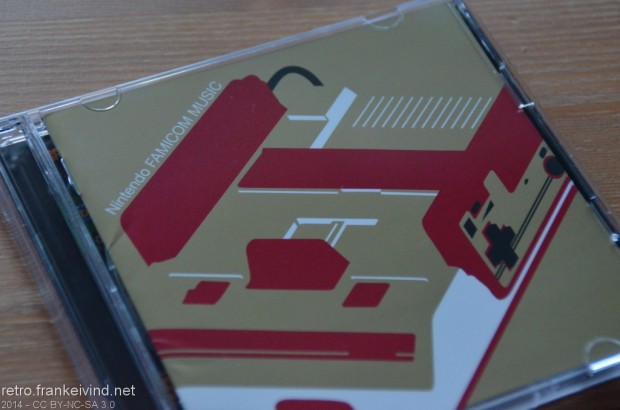 I can't remember last time I bought an audio CD. But it's years ago. When I found out that Nintendo was releasing the Nintendo FAMICOM MUSIC CD, I had to get it. It's only been released in Japan (December 2013), so I imported it from Play-Asia.com [affiliate link].
The disc set is divided between music from the Famicom (aka NES in the West) and the Famicom Disc System. It's classic tunes straight from the game roms. Pure 8-bit music.
With the exception of the Famicom Disc System (track 1 on CD 2), each track/game have it's own sub-tracklist. So when you start Super Mario Bros. you will hear the classic Mario-tune following music from the other levels. I'm getting very nostalgic, especially with the Super Mario Bros. 3 tunes. It's like I'm playing the game all over again. For a complete tracklist, check the bottom of this post.
Most of the music is from Nintendo's earlier games in the period 1983-86 with Dr. Mario from 1990 as the newest game. A total of  26 games are covered.
Also did a video review of the CD.
I love the cover art too. The frontcover is a stylized version of the Japanese Famicom in red, white and gold. While the back is a picture of the controller. The art on the CD themselves is also cool. Disc 1 have a picture of the Famicom from a top view, and disc 2 is showing the Famicom Disc System from the front. The inlay in the back have screenshots of titlescreens from some of the games included in the music collection.
The booklet is very nice and I wish I could read Japanese. Each track have a description of the game, I guess (since I don't read Japanese), a sub-tracklist, release date for the game and the coverart. It's very well done.
The music in this collection brings back memories from the good old 8-bit days. In a digial age where you stream everything, sometimes is great to have a physical product. If you are a collector or retro fan, the Nintendo FAMICOM MUSIC is for you.
Trakcs on the Nintendo FAMICOM MUSIC collection:
Disc 1 (Famicom)
Super Mario Bros.

(

スーパーマリオブラザーズ

)

Donkey Kong

(

ドンキーコング

)

Donkey Kong Jr.

(

ドンキーコングJR.

)

Mario Bros.

(

マリオブラザーズ

)

Baseball

(

ベースボール

)

Soccer

(

サッカー

)

Volleyball

(

バレーボール

)

Pro Wrestling

(

プロレス

)

Donkey Kong 3

(

ドンキーコング3

)

Devil World

(

デビルワールド

)

Clu Clu Land

(

クルクルランド

)

Balloon Fight

(

バルーンファイト

)

Ice Climber

(

アイスクライマー

)

Wrecking Crew

(

レッキングクルー

)

Mach Rider

(

マッハライダー

)

Famicom Wars

(

ファミコンウォーズ

)
Super Mario Bros. 3 (

スーパーマリオブラザーズ3

)

Dr. Mario

(

ドクターマリオ

)
Disc 2 (Famicom Disk System)
Famicom Disk System

(

ディスクシステム

) [boot-up sound]

The Legend of Zelda

(

ゼルダの伝説

)

The Mysterious Murasame Castle

(

謎の村雨城

)
Metroid (

メトロイド

)

Kid Icarus

(

光神話 パルテナの鏡

)

Zelda II: The Adventure of Link

(

リンクの冒険

)

Famicom Fairytales: New Onigashima Vol. I

(

ふぁみこんむかし話 新・鬼ヶ島 -前編-

)

Famicom Fairytales: New Onigashima Vol. II

(

ふぁみこんむかし話 新・鬼ヶ島 -後編-

)