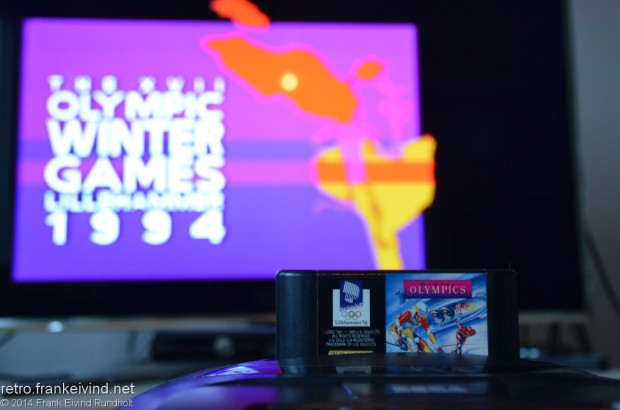 The Winter Olympics in Lillehammer in 1994 was some great Games. But good winter games in real life, does not necessarily result in a good video game. Olympic Winter Games Lillehammer 1994 on the Sega Mega Driver/Genesis is a game you can skip. If you can, go for Winter Games on the Commodore 64.
The reason I'm not satisfied with this game is that the control does not work at all. It's worst in the alpine events and it works best in bobsled / luge.
Lillehammer '94 consists of 10 branches, at least on paper. It's Downhill Alpine, Moguls, Super G Bob, Jumping, Biathlon, Giant Slalom, Short track speed skating and slalom.
And here comes the objection number two. 40% of the game consists of downhill skiing. The branches downhill, Super G, giant slalom and slalom is essencialy just the same: to move down a hill through the gates. It offers little variety and the control is bad.
Biathlon could be very fun. Cross contry skiing works, but when it comes to the shooting, the control does not work at all. It is almost impossible to aiming at the target and I'm happy if I hit a few times during a race.
The events I like best is the bob and luge, technically it is exactly the same play. So one of the events had perhaps been enought. But here it is at least possible to perfect your skills to continually get better running times. The control works very well.
But a few things should Lillehammer '94 have. It was the first official Winter Olympics game and using mascots Kristin & Håkon and the official Lillehammer logo for what they are worth. It obviously makes the game more authentic. In addition, the pictographs (rock carvings) representing the different branches compete in.
But this is not enough to make the Olympic Winter Games Lillehammer 1994 a good game. You will not miss much about skipping this game.