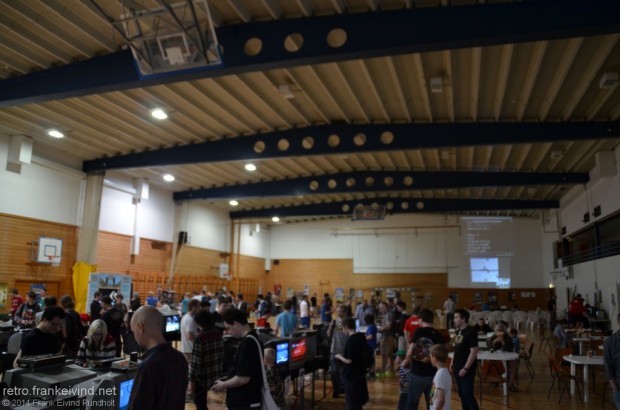 I was attending the Retrospillmessen (retro gaming expo) in Sandefjord, Norway on May 24.
There where a lot of consoles and computers, so I hade many round to look, take pictures and test them out. I think I tried most of them, but I'm not sure.
Many of the consoles I tried for the first time, like Atari's Jaguar, the Philips Videopack Computer G7000 and Apples only console, the Pippin. Other consoles I replayed for the first time in 30 years.
I tried the not much liked E.T. game on Atari 2600 and the very hard game Dragon's Lair on Philips CDi. Timing is everything in that game.
I also got a new favourite, Mine Storm on the Vectrex. The Vectrex is a console with an integrated vector screen. Very fun to have tested that one.
It was also very fun to play Lotus 2 on the Amiga 500 again, one of my favourite games on that computer. Pinball Fantasies on the Amiga CD32 was also great.
At last, I had the chance to try the Retron 5 from Hyperkin. It's a 10-in-1 console and will be released in the US early June. You can read my impression here.
You also had the chance to by old games. I bought Skate or Die for NES, Populous and Land of Illusions starring Mickey Mouse for Sega Master System.
Foto: © 2014 – Frank Eivind Rundholt