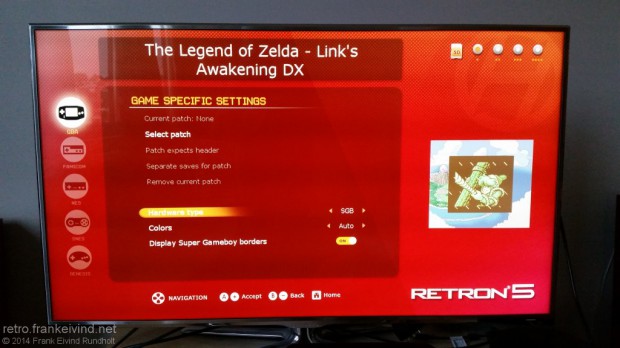 Over the last months, Hyperkin have released beta version of the firmware for Retron 5. But now, they have released a stable firmware v2.0.
The biggest addition to last firmware (v1.6) is support for IPS/UPS patch. This means that you can patch for example Japanese games with an English translation and add graphical hacks to games.
They also added Super Game Boy-emulation. See picture bellow on how Pokemon Red and Link's Awakening are looking with their Super Game Boy-borders.
Complete list of firmware v2.0 changes since v1.6:
IPS/UPS patch support added (allows application of translation patches, graphic/level hacks etc)
Added ability to assign "turbo" button mappings
"Game specific settings" added, allowing certain settings to be configured on a per-game basis
Support for SGB borders added
Color scheme selection for GB games added. In addition, the correct CGB colors will be automatically selected for certain games
"Disable FM sound" option for SMS games added
SGB multi-player mode working (and Gameboy player/button mapping has been split from GBA in Settings)
Fixed screen shaking in some GBA games
Added support for SNES SPC7110 cartridges
File manager is now able to operate on folders (select with long button press) and copy/remove folders recursively
Screenshots may now be saved as either PNG or JPEG, with PNG made as the new default
Revamped in-game hotkey configuration
Improvements to rendering synchronization
Misc game compatibility fixes (King of Monsters, Fantasy Zone, Sky Kid, Youkai Club)
Source: Retron5.in