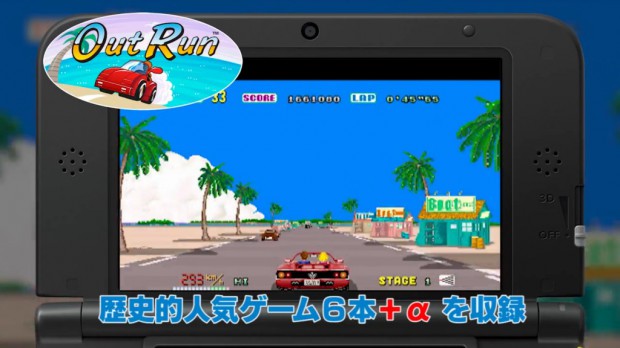 I like the 3D conversion of classic Sega games on the Nintendo 3DS. As usual, the Japanese gamers allready have more Sega 3D Classics than us in Europe (and the US for that matter). And they will get more.
On December 18, 2014 the Sega 3D Fukkoku Archives (aka Sega 3D Classics Collection) will be released in Japan on cartridge. The collection will have 6 games (previously available as downloads):
Space Harrier
Fantasy Zone – Opa Opa Bros.
Out Run
Bare Knuckle
The Super Shinobi II
Ecco the Dolphin
As a bonus, the Master System/Mark III version of Space Harrier 3D and OutRun 3D will be included.
If you have a Japanese Nintendo 3DS (regionlock sucks), the game can be pre-ordered from Play-Asia.com [affiliate-link].
For screenshots and more info (in Japanese), check Sega.jp.