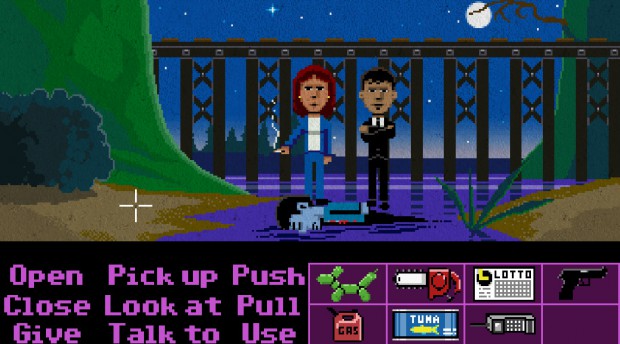 Did you like games like Maniac Mansion and Monkey Island when you where younger? If so, you're in luck.
The original makers of these games and more, Ron Gilbert and Gary Winnick, have started a Kickstarter top make a new game called Thimbleweed Park.
The game will be like a good old point & click adventure.
To quote their Kickstarter:
Why do we want to make Thimbleweed Park? Because we miss classic adventures and all their innocence and charm.

They were fun and would put a smile on your face. We want to make one of those again and we want to do it right. We don't want to make a game "inspired by," or "paying homage to" classic point & click adventures, we want to make a real classic point & click adventure.

Thimbleweed Park is a game for true lovers of adventure games. This is a Kickstarter for fans who loved Maniac Mansion, Monkey Island, and everything else that made that era great.  It strips away all the cruft built up over the years and is distilled down to what we loved about the genre.
And what's the game about?
Thimbleweed Park is the curious story of two washed up detectives called in to investigate a dead body found in the river just outside of town. It's a game where you switch between five playable characters while uncovering the dark, satirical and bizarre world of Thimbleweed Park.

Lost along a dusty stretch of highway, the town of Thimbleweed Park once boasted an opulent hotel, a vibrant business district and the state's largest pillow factory, but now teeters on the edge of oblivion and continues to exist for no real reason. It's a town that makes you itch and your skin crawl. It's a place no one ever looks for, but everyone seems to find.
You can back Ron Gilbert and Gary Winnick and their new game Thimbleweed Park on Kickstarter.com. The project ends on December 18, 2014.