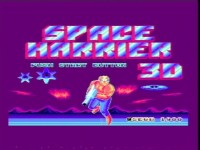 In Frank's Retrocast #02 I talk about the Space Harrier 3-D on the Sega Master System. The game was released in 1988 as one of the eight games made for the SegaScope 3D glasses.
For the written review, go here.
This edition of Retrocast comes in two variants, the normal one and in 3D. The 3D-version is available as a download for viewing in 3D on the Nintendo 3DS.
Torrent: franks_retrocast_02_spaceharrier3d_3ds-edition [mininova].torrent (78 MB)