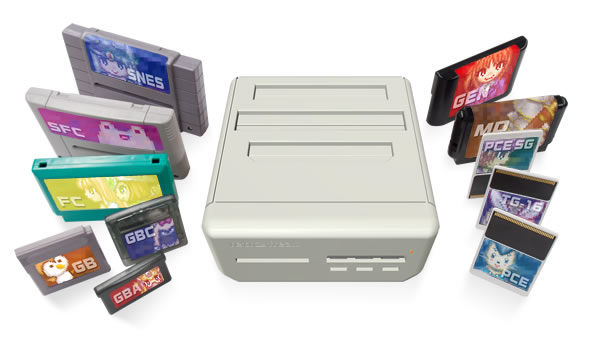 I recently learned about the Retro Freak console. It's a Japanese console like the Retron 5 and can play games from 11 different consoles. Like the Retron 5, the console is based on emulation, can output video via HDMI with different filters, and can use the good old controllers.
From what I can understand from the Google-translated page, games can be ripped to a internal memory/SD-card so you can play them later without the cartrigde in the console. The ripped games will only be playable on the console they where ripped on.
I'm not sure if Retro Freak will get an official release outside Japan, but it can be pre-ordered from Play-Asia.com [affiliate link] for US$ 169.99 with a release date October 2015.
List of consoles the Retro Freak support:
Famicom
Super Famicom
Super Nintendo (SNES)
Game Boy
Game Boy Color
Game Boy Advance
Sega Genesis
Sega Mega Drive
PC Engine
TurboGrafx-16
PC Engine SuperGrafx
Looks like it won't support NES, the European/US version of Famicom.
Source: cybergadget.co.jp, Click here for the Google-translated page