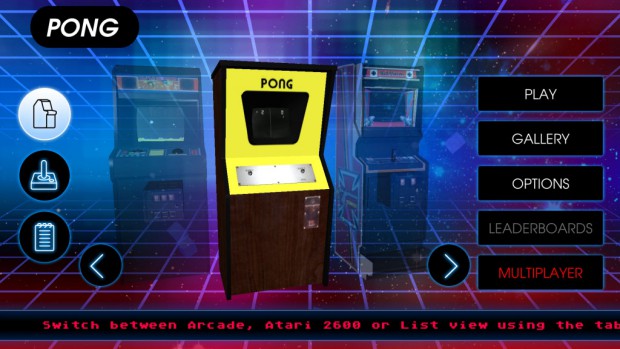 Reviewcode on Steam by GamingPR.biz.
Atari was big in the 70's and the beginning of the 80's when the videogames started to show up in the arcades and homes. This reflect the many titles you find in Atari Vault compilation.
Even if you haven't played Pong, Asteroids, Centipede or Missile Command in the arcades, these are known games you probably have come a cross on a console or two throu the decades.
Atari Vault hit Steam in March and contain 100 Atari games. 18 of them are arcade titles, the rest is games for the Atari 2600.
The games are wrapped in nice menus where you find the arcade titles and Atari 2600 in two seperate views. The arcade games are shown with their 3D arcade cabinets. The games are not played in fullscreen, but zoomet in so you the cabinet graphics surround the playscreen.
The Atari 2600 titles are shown with their gameboxes and you can read the game manual for each game. Sadly, they are scanned in low resolution and you can also see compression artifacts.
I used the keyboard for most of the games I testet, and mostly it works OK. But had some problemes in some of the games. Some of the games also have mouse support, but that didn't quite work well either. It's also possible to connect a controller, but I didn't test that.
With the exeption of Pong, all the arcade games support leaderboards on the internet. It's also possible to play all the arcade games as multiplayer over internet. Some of the Atari 2600 games support that too. To bad that you have to check each and every game if there are someone that wants to play online. It would have been much easier if you could just check a lobby and join a free game there.
With blocky graphics and pling-plong sound, the Atari Vault have lot of good games from the 70's and 80's. Even though many of the games can be found on other compilations for consoles or in the form of a Atari Flashback plug'n-play console, some people do like to play on PC only.
Atari Vault is the game compilation for those who want to relive their childhood or just want to check out a great piece of gaming history. There are some thing that could have been done better in this compilation. But in all, you will enjoy this compilation and probably discover some games you never heard of. I know I did.
This slideshow requires JavaScript.
Complete gamelist:
3D Tic Tac Toe – 2600
Adventure – 2600
Air Sea Battle – 2600
Asteroids – 2600
Asteroids – Arcade
Asteroids Deluxe – Arcade
Backgammon – 2600
Basic Math – 2600
Basketball – 2600
Black Widow – Arcade
Blackjack – 2600
Bowling – 2600
Brain Games – 2600
Breakout – 2600
Canyon Bomber – 2600
Casino – 2600
Centipede – 2600
Centipede – Arcade
Championship Soccer – 2600
Checkers – 2600
Chess – 2600
Circus Atari – 2600
Code Breaker – 2600
Combat – 2600
Combat 2 – 2600
Concentration – 2600
Crystal Castles – 2600
Crystal Castles – Arcade
Demons to Diamonds – 2600
Desert Falcon – 2600
Dodge-Em 2600
Double Dunk – 2600
Fatal Run – 2600
Flag capture – 2600
Football – 2600
Golf – 2600
Gravitar – 2600
Gravitar – Arcade
Hangman – 2600
Haunted House – 2600
Homerun – 2600
Human Cannonball – 2600
Liberator – Arcade
Lunar Lander – Arcade
Major Havoc – Arcade
Maze Craze – 2600
Millipede – 2600
Millipede – Arcade
Miniature Golf – 2600
Missile Command – 2600
Missile Command – Arcade
Night Driver – 2600
Off the Wall – 2600
Outlaw – 2600
Pong – Arcade
Quadrun – 2600
Race – 2600
Radar Lock – 2600
RealSports Baseball – 2600
RealSports Basketball – 2600
RealSports Boxing – 2600
RealSports Football – 2600
RealSports Soccer – 2600
RealSports Tennis – 2600
RealSports Volleyball – 2600
Red Baron – Arcade
Return to Haunted House – 2600
Save Mary – 2600
Secret Quest – 2600
Sentinel – 2600
Sky Diver – 2600
Slot Machine – 2600
Slot Racers – 2600
Sword Quest Fireworld – 2600
Space Duel – Arcade
Space War – 2600
Sprint – Arcade
Sprint Master – 2600
Star Raiders – 2600
Starship – 2600
Steeplechase – 2600
Stellar Track – 2600
Street Racer – 2600
Stunt Cycle – 2600
Sub Commander – 2600
Super Baseball – 2600
Super Breakout – Arcade
Super Breakout -2600
Super Football – 2600
Surround – 2600
Sword Quest Earthworld – 2600
Sword Quest Waterworld – 2600
Tempest – 2600
Tempest – Arcade
Video Cube – 2600
Video Olympics – 2600
Video Pinball – 2600
Warlords – 2600
Warlords – Arcade
Yars Revenge – 2600